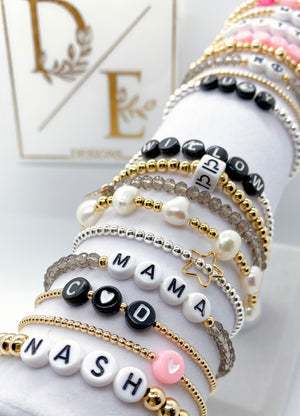 "Jewelry is a very personal thing... It should tell a story about the person who's wearing it"
About The Designer
Hi, I'm Danielle- the face behind Danielle Evans Designs. I was born and raised in a small town in Georgia, and am raising my own little family in that same town now. Blessed beyond belief, I married my best friend, and together we have the sweetest blonde-haired, blue-eyed boy. These two are my heart, and I am thankful for every moment we spend together-- especially Sunday afternoons spent curled up together at home. 
I am the owner, maker, and designer here at Danielle Evans Designs, but it's the title of "mama" that got me into creating. I was wanting a piece of jewelry that would represent these parts of my life that have become such a part of who I am-- a mother, a wife, but I was met with dead ends. So, I decided to design a stack of bracelets that captured that… and here we are!
Sometimes, the biggest things that make us who we are can be summed up in just a few words. I absolutely love crafting pieces that honor those parts of your lives, and I am honored to offer these creations in a way that is affordable, without sacrificing quality. Each piece that I create is a representation of a personal journey, and I am beyond grateful to capture that for you in the form of a bracelet or stack.